MarketTap Collection Program
MarketTap mobilizes Knoema's in-country networks of paid volunteers to obtain client-defined streams of local data. First launched in June 2014, the program targeted one urban and one rural market in each of African country. The program has quickly grown and now sustains reliable food price coverage in at least 44 countries and more than 150 food markets in Africa in addition to global coverage in countries including: Brazil, China, India, Indonesia, Mexico, and Russia.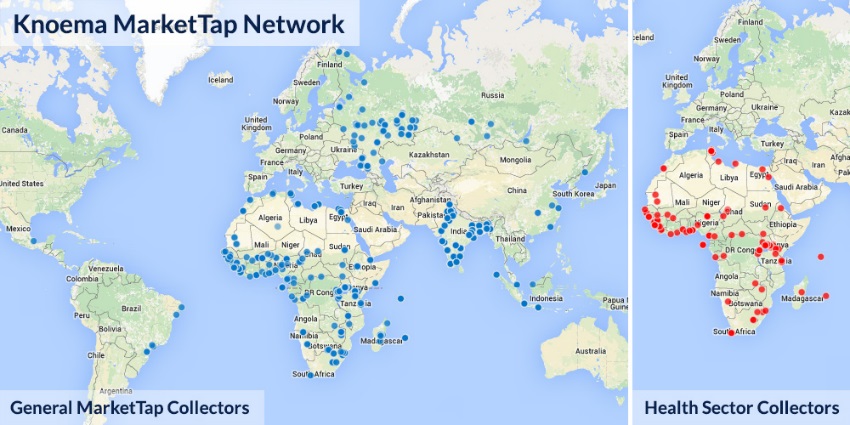 Figure 1. Our established commercial network of collectors - known as MarketTap - is global, expanding, and highly trained in mobile data collection. We pay collectors in our MarketTap network to collect food prices in multiple regions worldwide. We have also successfully converted our extensive network of paid collectors in Africa to obtain information related to health facilities and services.
MarketTap generates for clients unique, sustainable and scalable access to local markets to fulfill multiple potential objectives:
Enhance internal early warning and risk management capabilities with weekly deliver of standardized data from vetted in-country contributors. All data are submitted through geo-located web- or mobile-based systems and monitored by Knoema data specialists trained in statistical and/or econometric techniques.
Sharpen market knowledge for business entry or expansion and supply chain management with robust coverage across rural areas and major cities. Enhance accuracy, timelines, and frequency with MarketTap's automated processing system that detects anomalous data based on indicator, time period, and collector and alerts monitoring staff.
Adjust or develop policies and mission objectives based on trend detection analysis and intersection of pricing data with other indicators when you download data from MarketTap or explore the data through Knoema's visualization tools. These tools are customizable with advanced modeling on a client-by-client basis.
Under the program, Knoema trains individuals on the ground to collect data and to use the Knoema mobile and web-based data collection software platform. The software supports three critical functions:
Data Submission. The platform is equipped with an online submission system and a mobile application for Android OS for real time data collection. Collectors are now submitting roughly 30 percent of the retail price data through Knoema's mobile application; the remainder submit through a standard internet application. Each submission includes a geolocated tag with the market or submission location.
Standardization. Data submissions are simplified by allowing collectors to input price data for any given unit or local currency. The Knoema Data Collection Platform converts the provided data into a recommended base unit (such as 1 kg or USD) automatically. The automated conversion minimizes possible human error in calculations and allows users to easily compare and review prices, for example, collected across different regions, within a country, or across multiple countries.
Automated quality review and monitoring. The software enhances accuracy and timeliness by detecting anomalous data based on indicator, time period, and collector and alerting monitoring staff to outliers and sharp jumps in value. The system forces collectors to provide notes justifying jumps in value. Knoema statisticians may also randomly audit submissions, selecting to review all submitted data for a market, suspicious data observations for a market, data submitted by a specific collector, or data submitted during a certain time period.
Market tested
GPS verified data
Customizable
Contact us